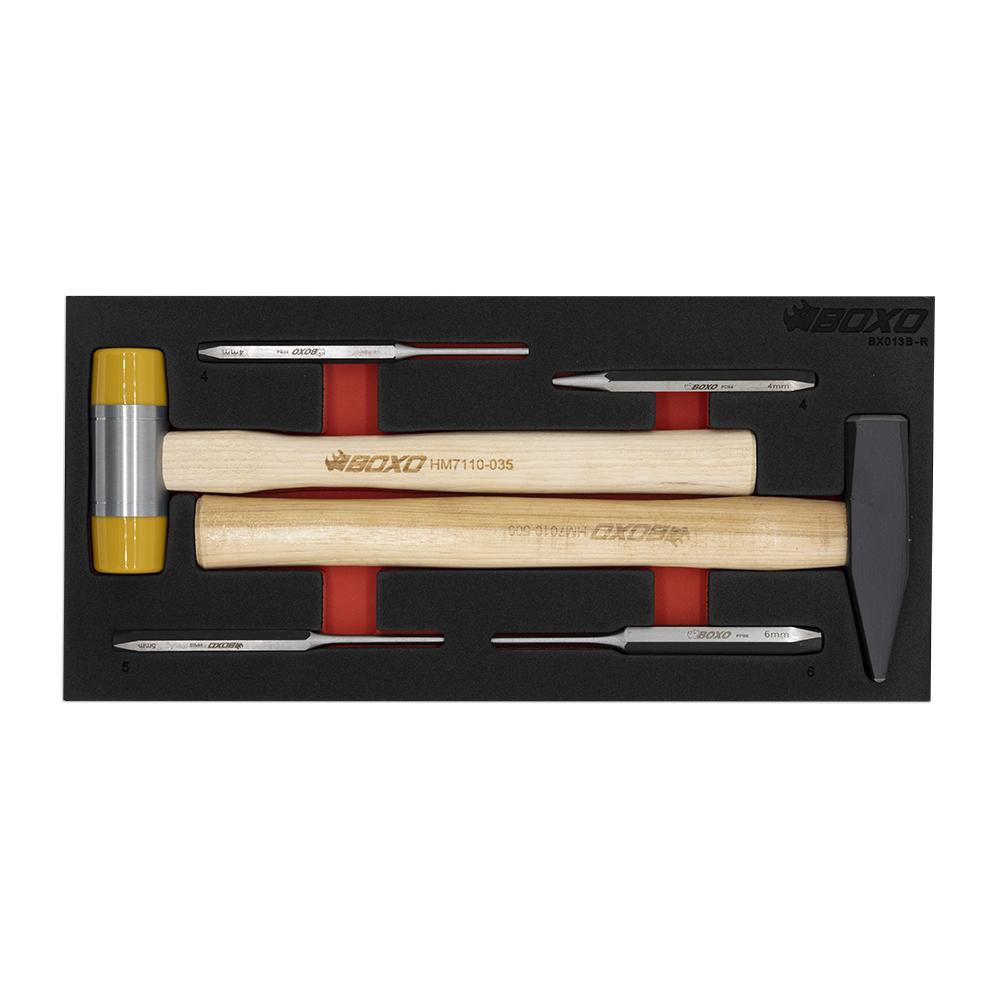 6-Piece Hammer & Punch Set Boxo
Pickup available at Mad Moose | Shop
Usually ready in 24 hours
6-Piece Hammer & Punch Set Boxo
Mad Moose | Shop
Pickup available, usually ready in 24 hours
5193 Industrial Drive
Hurricane UT 84737
United States
+14352205317
This 6-piece hammer and punch set features one engineers' machinist hammer and one double soft face interchangeable hammer, with hickory handles and four punches.
The engineers' machinist hammers are also known for blacksmithing. Universally, these hammers are also known as riveting hammers.
The hammer is made of high-carbon steel with heat treatment, high hardness and durability.

High-grade clear-coated hickory handle provides long life, superior strength, and breaking stress.

Cross-peen design uses square beveled face and angular cross peen are machined precisely. 
The interchangeable double-soft face hammer is designed to keep your striking surface when you need to leave the surface non-marred.
The "soft" materials used reduce what is known as bounce back as they can absorb most of the impact energy. In many ways they are a smaller version of the traditional mallet but for use in more delicate situations.

High-grade clear-coated hickory handle provides long life, superior strength, and breaking stress.

Durable plastic face heads are removable and can be replaced when needed.
Included are three pin punches and one center punch. 
The center punch is 4" long and has a 4mm diameter tapered point.

The point is sharp for precise placement of a drill bit.

Center punches are used to make a dimple mark in materials to guide a drill bit typically tapped with a hammer to make a pre-drilling indent.

These pin punches are made of hardened steel for wear resistance and strength. Its tempered head makes it less likely to fracture from a hard, off-center blow.

Pin punches are tools used to insert or knock out rivets and pins in assemblies. They have a metal shank on one end and a metal pin driver on the other and are typically tapped with a hammer.

All four punches are finished in black phosphate. 

Each punch has a precision ground tip with tapered striking ends for added strength.

Every punch has size markings clearly labeled on each punch.
This whole set is contained in our 1/3rd EVA Foam to keep your work tools organized. All BOXOusa tools are backed by a limited lifetime warranty. Each BOXOusa tool set that comes in our EVA foam tool storage solution is arranged and engineered to maximize the space for perfect tool organization. Every BOXO tool set that comes in EVA Foam fits precisely in our toolboxes or tool cabinets. This allows for the tools to stay organized. All our tools have been scanned in a CAD system and a computer-controlled routing machine then cuts out each tool to the exact shape to maximize space. The dual color red and black contrasting EVA foam allows for quick visual inspection enabling the user to quickly return the tool to its proper location. Set is secured in 1/3rd EVA foam tool storage solution insert to keep pieces together and organized in the drawer of your toolbox. 
Dimensions: 15-11/16"L x 7-3/8"W x 1-1/4" D
Tool Set Includes:
1 lb. (500 Gram) Engineer Hammer 

Interchangeable double soft faced hammer

Center punch (4mm x 4.75" (120mm) long 

3 Pin punches (4mm, 5mm and 6mm x 5.5" x (150mm) long