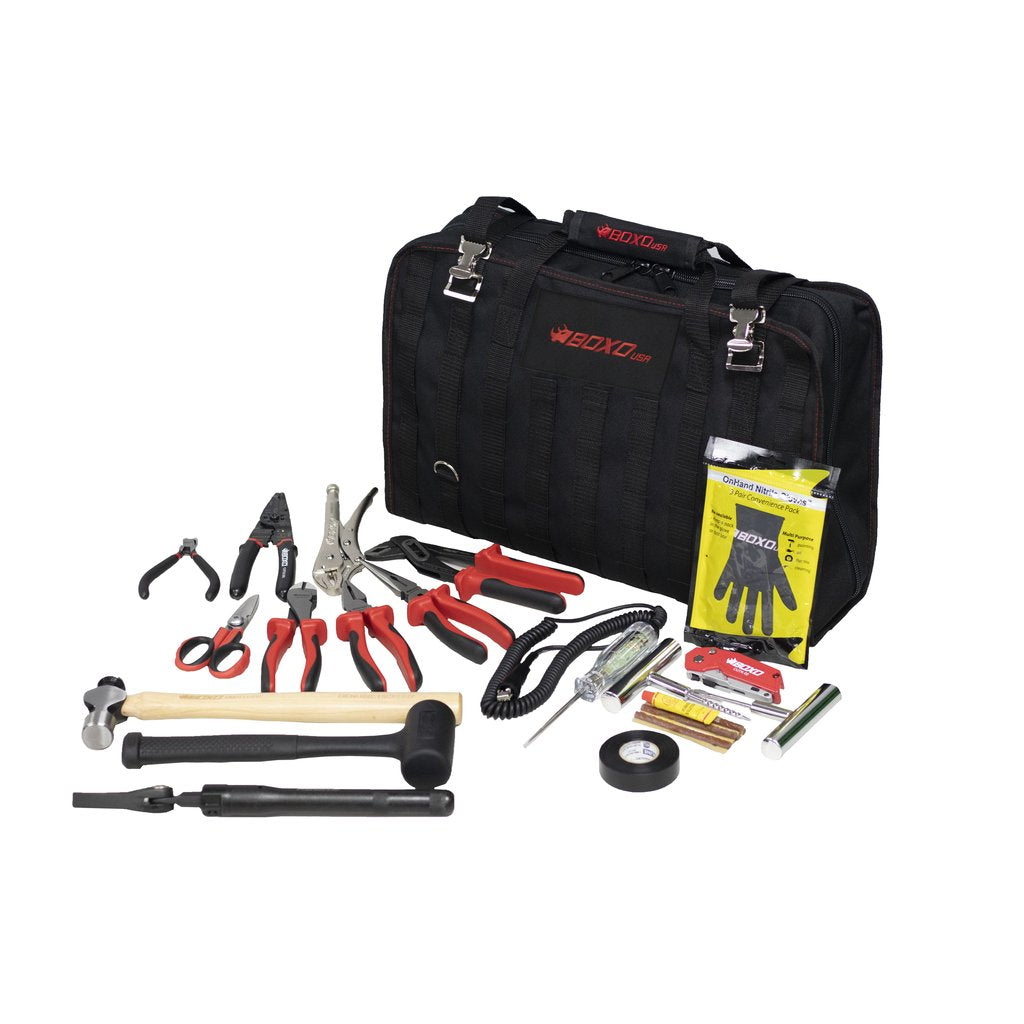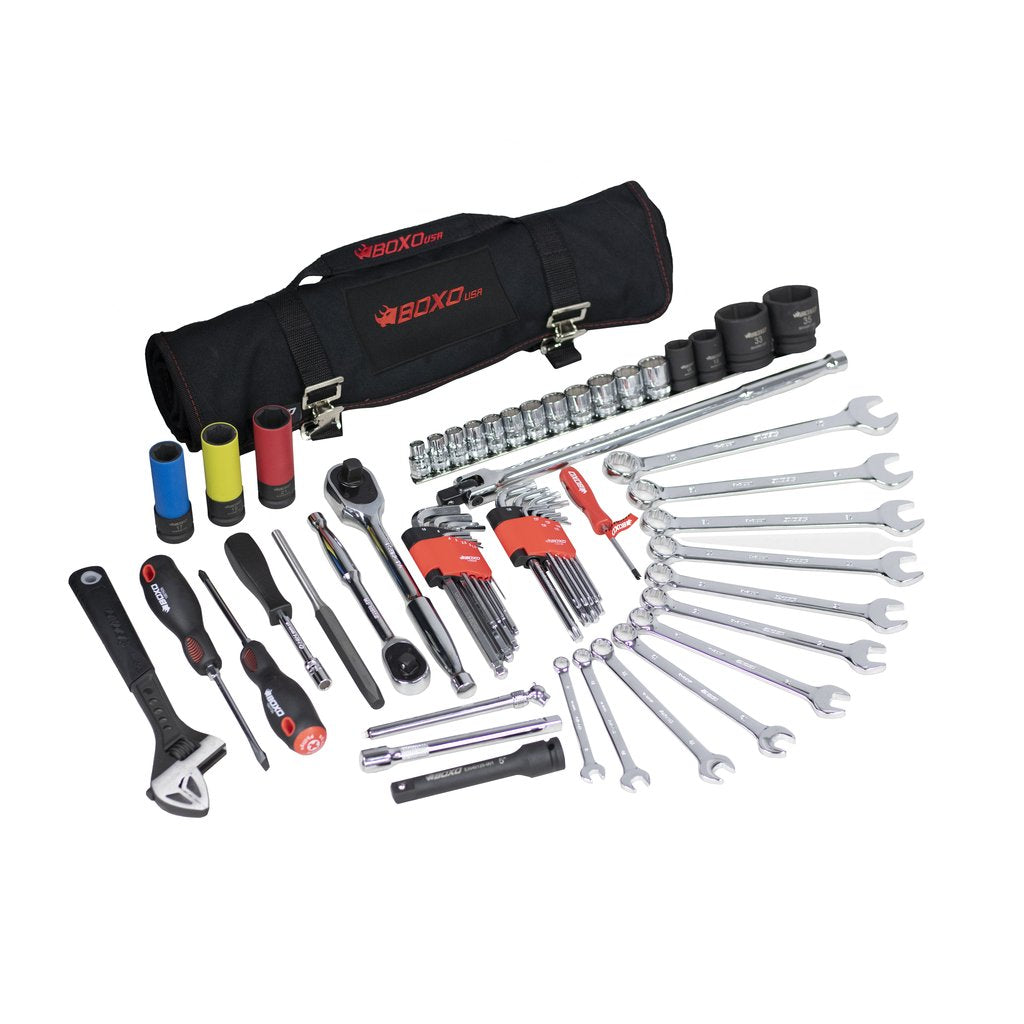 BoxoUSA Tool Bag With Tool Roll
Pickup available at Mad Moose | Shop
Usually ready in 24 hours
BoxoUSA Tool Bag With Tool Roll
Mad Moose | Shop
Pickup available, usually ready in 24 hours
5193 Industrial Drive
Hurricane UT 84737
United States
+14352205317
Purchase the rugged BoxoUSA Tool Bag with Tool roll and get one HAS-CB01 Folding Mechanic Mat for Free! The folding mechanic mat is the perfect companion for the tool bag. Keeps you clean and provides comfort when repairs are needed to keep you going.   
The 80-piece BoxoUSA Tool Bag contains professional grade tools that come with a no-hassle lifetime warranty. This includes a 60-piece tool roll plus five removable tool bags containing pliers, hammers, a pry bar, tire repair kit, electrical test and repair items and a universal bag for your other favorite items and tools. 
The bag is stitched from high quality Cordura® Nylon to ensure your tools stay organized and rattle free on your journey. For ease of use there are heavy-duty zippers on the outer tool bag. With the outside molle webbing system it is ideal for securing additional items to the exterior of the bag. All of the tools that you need and nothing that you don't. 
BoxoUSA Tool Bag is a versatile solution with the necessary tools for any vehicle to get your vehicle repaired and keep you moving.   
Tool Bag Dimensions: 19.68" L x 13.58" W x 6.77" H
Product weight: 31.46lbs
All BOXOusa tools carry a no-hassle limited lifetime warranty
80-piece metric tool set with the most useful tools for most applications
Durable and secure tool bag made from ultra-strong Cordura® Nylon
Outside molle webbing system is ideal for securing the bag and for attaching multiple items
Outer bag utilizes heavy-duty zippers for added security and ease of use
Inner tool roll utilizes tool pouches and flaps for secure tool storage 
Large outer tool bag contains 19 individual tools 
Inner tool roll contains 60 individual tools
Five inner removable tool bags are secured via hook and loop mounting. 
The BoxoUSA Tool Bag is designed with ample space to add more of your own personalized items
The BoxoUSA Tool Bag is perfect for any vehicle
Tool Set Includes: 
8mm Metric Combination Wrench with 12-Point Box End 

10mm Metric Combination Wrench with 12-Point Box End

12mm Metric Combination Wrench with 12-Point Box End

13mm Metric Combination Wrench with 12-Point Box End

14mm Metric Combination Wrench with 12-Point Box End

15mm Metric Combination Wrench with 12-Point Box End

16mm Metric Combination Wrench with 12-Point Box End

17mm Metric Combination Wrench with 12-Point Box End

18mm Metric Combination Wrench with 12-Point Box End

19mm Metric Combination Wrench with 12-Point Box End

8mm Metric, 12-point, Standard Socket, 3/8

"

 Drive, Full Polish

9mm Metric, 12-point, Standard Socket, 3/8

"

 Drive, Full Polish

10mm Metric, 12-point, Standard Socket, 3/8

"

Drive, Full Polish

11mm Metric, 12-point, Standard Socket, 3/8

"

Drive, Full Polish

12mm Metric, 12-point, Standard Socket, 3/8

"

Drive, Full Polish

13mm Metric, 12-point, Standard Socket, 3/8

"

Drive, Full Polish

14mm Metric, 12-point, Standard Socket, 3/8

"

Drive, Full Polish

15mm Metric, 12-point, Standard Socket, 3/8

"

 Drive, Full Polish

16mm Metric, 12-point, Standard Socket, 3/8

"

 Drive, Full Polish

17mm Metric, 12-point, Standard Socket, 3/8

"

Drive, Full Polish

18mm Metric, 12-point, Standard Socket, 3/8

"

Drive, Full Polish

19mm Metric, 12-point, Standard Socket, 3/8

"

Drive, Full Polish

16mm Metric, 6-Point, Standard Impact Socket, 1/2

"

 Drive

18mm Metric, 6-Point, Standard Impact Socket, 1/2

"

Drive

17mm Metric, 6-Point, Wheel Impact Socket, 1/2

"

 Drive

19mm Metric, 6-Point, Wheel Impact Socket, 1/2

"

 Drive

21mm Metric, 6-Point, Wheel Impact Socket, 1/2

"

Drive

33mm Metric, 6-Point, Standard Impact Socket, 1/2

"

Drive

35mm Metric, 6-Point, Standard Impact Socket, 1/2

"

Drive

3/8

"

 Ratchet

1/2

"

 Ratchet

1/2

"

 Breaker Bar

9-Piece Metric Hex Wrench Set

9-Piece Torx Key Wrench Set

Ball Peen Hammer

Dead Blow Hammer

Heavy Duty Diagonal Side Cutter

Flush Cut Pliers

Groove Joint Water Pump Pliers

Long Nose Pliers

Combination Pliers

Curved Jaw Locking Pliers

Wire Cutter, Wire Stripper and Crimper Tool

Phillips Screwdriver #2

Flat Screwdriver 100mm

1/4

"

 Drive Spinner Handle

1/4

"

 Spinner Handle Drive with 1/4

"

 Drive, 5/16 Socket

Adjustable Wrench

8mm Pin Punch

12 and 42-Volt Compatible Circuit Tester

6

"

3/8-Drive Medium Extension

5

"

1/2-Drive Impact Extension

Extendable Pry Bar